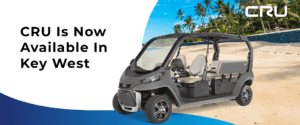 Introducing the Club Car CRU Neighborhood Electric Vehicle (NEV) - Now Available at Keys Auto Center!
Welcome to the future of convenient and eco-friendly urban transportation with the Club Car CRU Neighborhood Electric Vehicle (NEV). Designed to provide efficient and sustainable mobility solutions, the CRU NEV is a remarkable addition to Club Car's line of street-legal vehicles. Discover the key features and benefits of the CRU NEV and learn how you can reserve yours today through Keys Auto Center.
Key Features of the Club Car CRU NEV:
Street Legal: The CRU NEV is designed to meet stringent safety and regulatory standards, making it suitable for street use in many neighborhoods and urban environments. This vehicle provides a reliable and comfortable way to navigate your community while adhering to local traffic laws.
Electric Performance: Embrace the future of clean and efficient transportation with the CRU NEV's electric drivetrain. Say goodbye to gas stations and hello to low maintenance costs, reduced emissions, and a quiet, smooth ride.
Compact Design: The CRU NEV is built with urban living in mind. Its compact design allows you to maneuver through tight spaces and navigate busy streets with ease. Whether you're running errands, commuting to work, or exploring your neighborhood, the CRU NEV is the perfect companion.
Comfort and Convenience: Step into a spacious and comfortable cabin that accommodates both driver and passengers. With features like ergonomic seating, climate control options, and user-friendly controls, the CRU NEV ensures a pleasant driving experience every time.
Advanced Safety: Club Car prioritizes your safety. The CRU NEV is equipped with essential safety features such as seat belts, mirrors, headlights, taillights, turn signals, and more, ensuring a secure journey every time you hit the road.
Reserve Your Club Car CRU NEV Today at Keys Auto Center:
Experience the Club Car CRU NEV firsthand by reserving yours at Keys Auto Center. As an authorized Club Car dealer, Keys Auto Center offers a seamless reservation process to help you secure your very own CRU NEV.
To reserve your CRU NEV today, simply fill out the form below. Our team of dedicated professionals will be in touch with you to guide you through the reservation process, answer any questions you might have, and provide you with all the necessary details.
Don't miss out on the opportunity to revolutionize your transportation experience with the Club Car CRU NEV. Reserve yours today and be a part of the sustainable and innovative future of mobility.